Pavers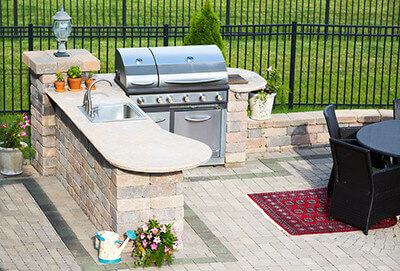 Transform your traditional, concrete patio, sidewalk, or driveway with brick or concrete pavers. With the additions of pavers and wall blocks, we can utilize different styles, colors, sizes, and textures to create the effect that best matches your style and home.
Precast paving stones caught on in landscapes early on due to affordability and versatility. The majority of these fall into one or more categories:
Interlocking pavers: These manufactured paving stones can be obtained in a wide range of shapes and colors coordinated to produce a paving pattern once installed. Such patterns are so visually appealing they may be preferred over more expensive stone and tile.
Precast unit pavers: Ordinary precast pavers produce a surface with crisp, uniformly shaped units such as squares or brick-like rectangles in various sizes.
Tumbled precast unit pavers: Precast unit pavers are tumbled at the factory to produce a more natural looking surface. Tumbled pavers can suggest a more aged appearance that more accurately mimics the look of hewn stone. Tumbled pavers also offer a softer edge that may prove safer in high activity areas such as swimming pool decks and adjacent to sports courts.
Open Cell pavers: These are specially made unit pavers designed to allow water to drain through openings in the paver itself, or through those set into the edges that result in increased flow through the joints. While designed to increase permeability in parking lots, they are equally valuable for zero runoff homesite paving.
Turf pavers: This unique precast paver was developed to allow emergency equipment to drive over lawn, typically to provide fire lanes to multifamily housing without paving the entire surface. They are also used for overflow parking. Turf pavers are often cast in a lattice texture that provides openings large enough for turf to grow throughout.
Stone pavers: These are remnants of pre-war pavements created out of rough hewn stone squares that once replaced cobblestones. While approximately the same size as precast concrete units, they are vastly more expensive due to the labor required to render stone into identical units.
Contact our team to get started designing your perfect outdoor space.