Outdoor Grills
Enjoy dinner outside by adding a grill to your backyard and enjoy the luxuries of outdoor living. Grills are great additions to your backyard during summer, where grilling is a popular activity. You can cook some ribs, burgers, hotdogs, and more using specialized wood chips to leave a unique taste to your meal. We design hardscape features that accompany grills that can fit seamlessly into your outdoor living area. Need more? Contact us today to learn more about our outdoor grill services.
Cooking with Wood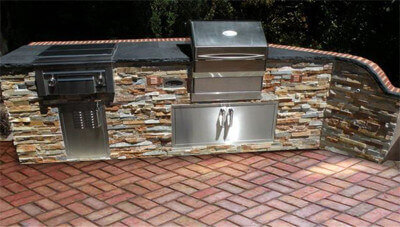 Eating food after cooking it using wood to cook, smoke, bake, or grill, leaves a distinct flavor to it. Why should you cook with wood? Simply put, it taste better.
Burning wood transfers the aroma and allows for more flavor than propane, or charcoal. The method of using wood is also incredibly efficient, and generates less ash than charcoal, meaning less cleanup.
We provide wood pellet grills that are sure to make your barbeques unique, and leave a lasting impressions to your tastebuds.